Real Cards… With So Much More!
DESIGNED BY EDUCATORS
After frustration with cheap, flimsy and poorly constructed alternatives, UpSparks flash cards have been designed to be the best quality card on the market. Thoughtfully built with vibrant color-coded cards, rounded corners for quick sorting, and sized perfectly to fit hands both big and small, we put quality and learning first.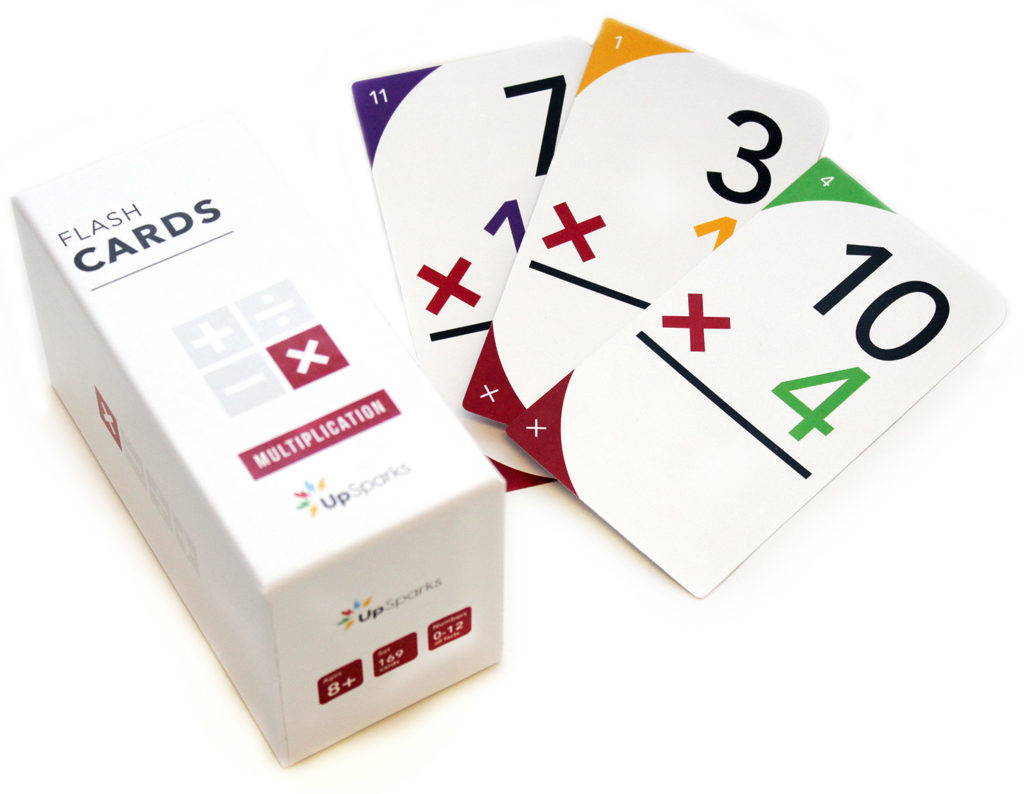 "These flash cards were exactly what I was looking for. They are well designed with the pedagogical process in mind."
"I love the accompanying app! My kids have such a blast finding new creatures while learning!"
QUICK INFO:
Card size: 3" x 5.5" – Designed for small and big hands
169 cards – Including all number combinations from 0x0 to 12×12
Unique multi-color design – Linking colors with learning
Rounded upper corners – For quick and easy sorting
Color coded corners – Keeps cards organized in and out of box
INCLUDED FREE GAMES AND RESOURCES
UpSparks AR – Augmented Reality app
Printable Resources
Times Table Worksheets
Random Question Generator Tool
Brainy Bingo
And more!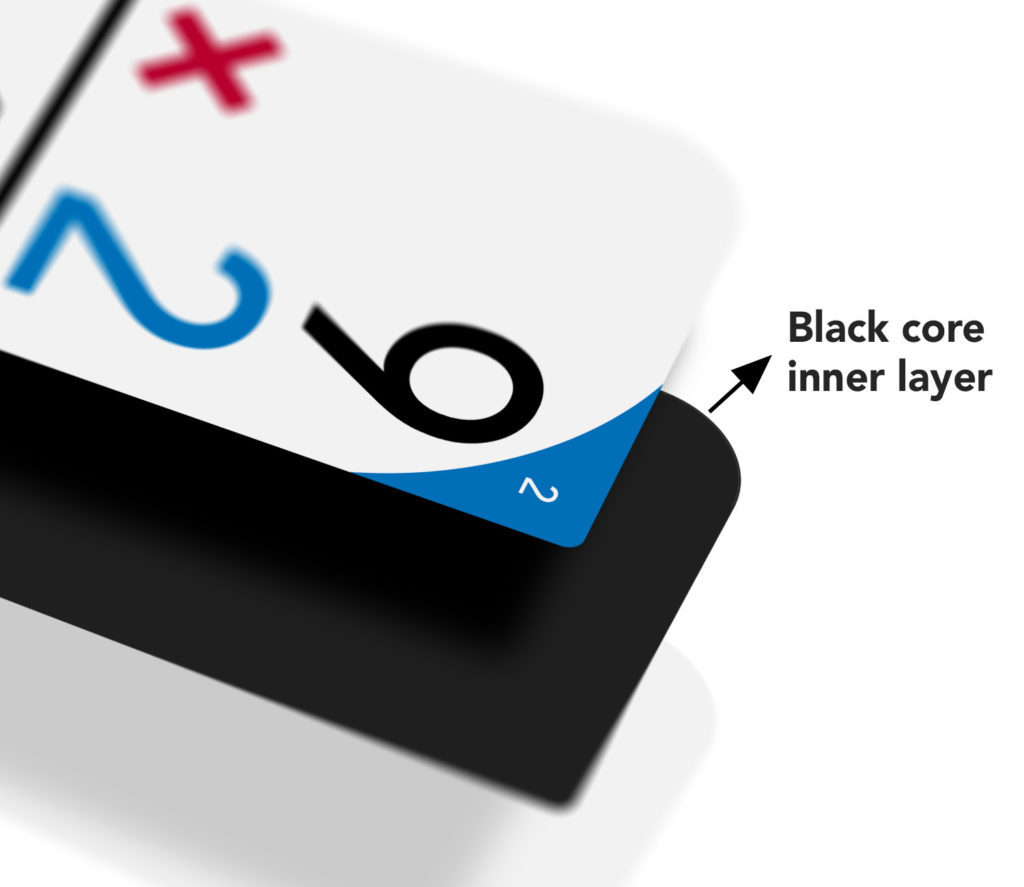 No see-through cards.
Using the same 'black core' technology as professional poker cards, UpSparks cards cannot been seen through in any lighting environment (indoors or outdoors). A common flaw in cheaper flash cards is the ability to see solutions through the card itself; this is not only bad for learners, it is also a huge frustration for parents, teachers and tutors. Printing your own cards with our multiplication flash cards printable sheets is a great free option but thin paper can result in see-through cards and printing to cardboard can be expensive and bulky. Our UpSparks cards retain a thin and light structure while remaining 100% non-transparent.
Durable, strong and the perfect fit for every hand.
Real learning is messy! And thin printed and paper-based cards don't last long. Shuffling, flipping, passing and sharing takes its toll on cards. That's why we have used the best quality materials to make cards that can stand up to the wear and tear of enthusiastic learning.
Made to last with triple-layer card-stock, UpSparks cards are tough as nails. Designed to fit hands young and old, this material gives durability, texture and strength far beyond cheaper alternatives. The unique material makes UpSparks cards harder to bend, tear and scuff, while retaining a light feel and a solid snap when in use. We are so confident in our materials that we offer a 100% risk-free satisfaction guarantee to all buyers.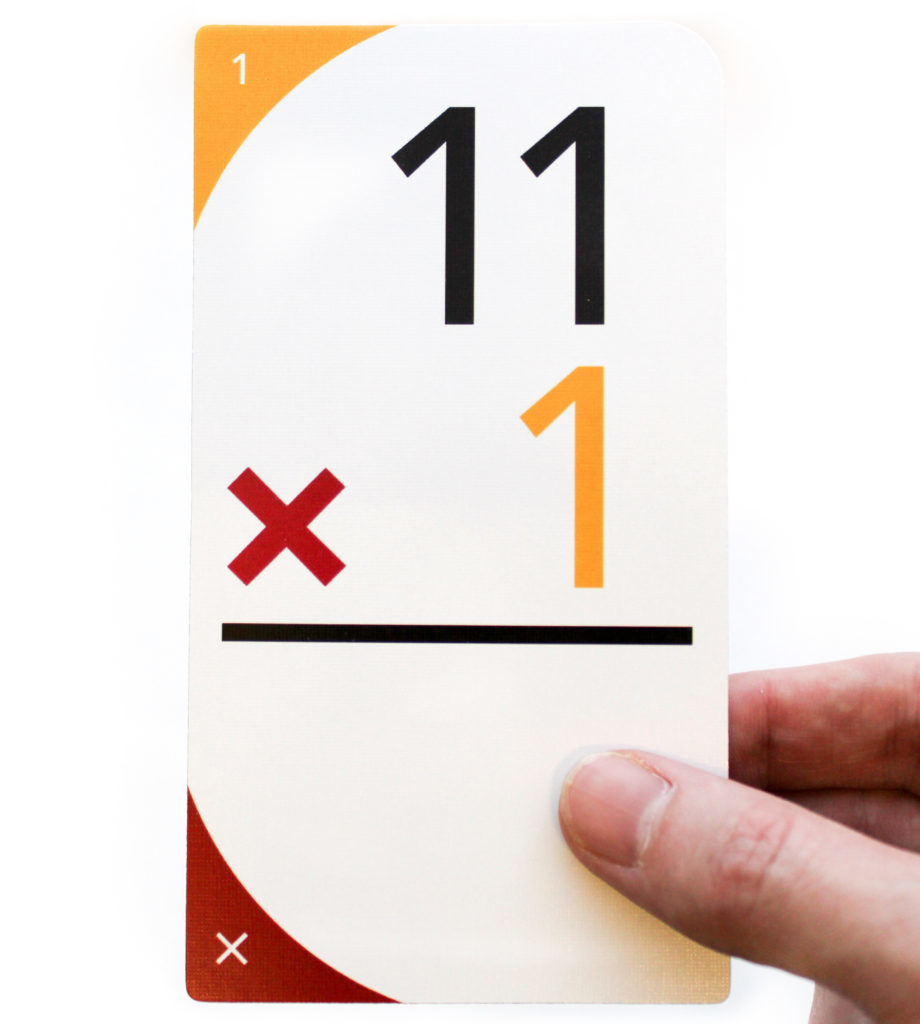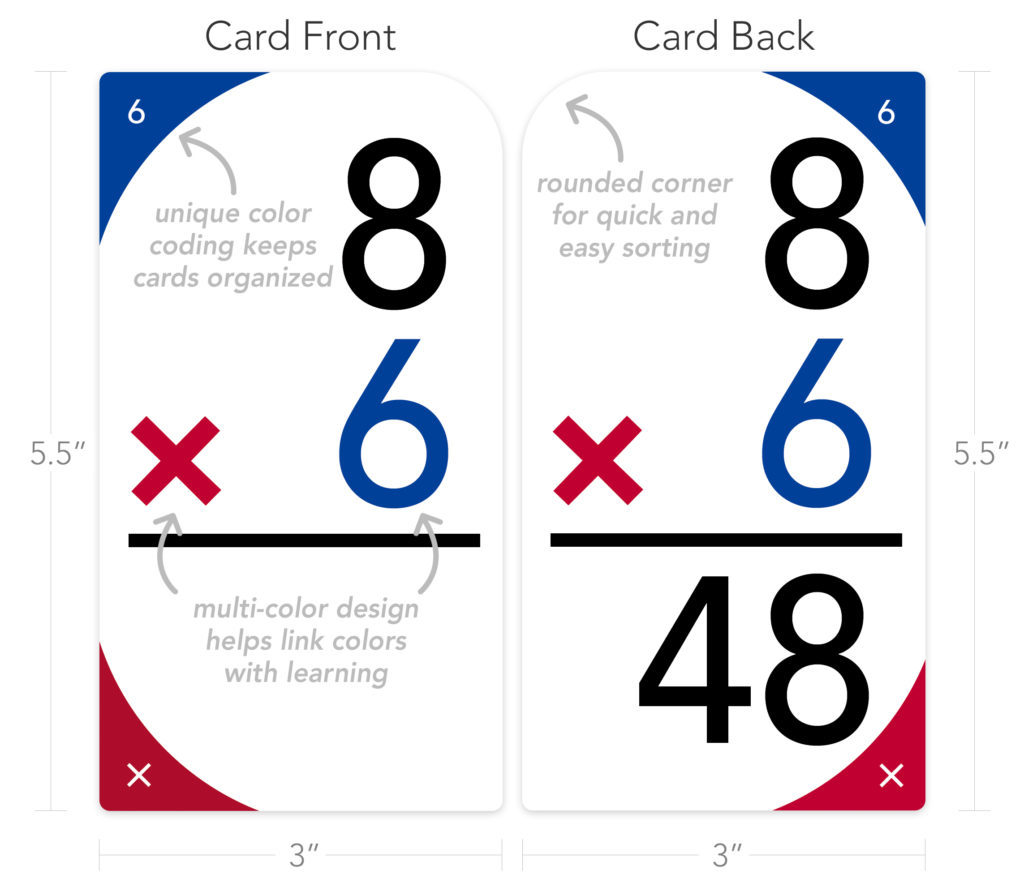 Color-coded with rounded corners for easy sorting.
Visual cues such as color and shape help our brains react and learn faster. This is why we have carefully designed UpSparks flash cards to be bright and colorful. Each number is color-coded so that each times tables is visually linked to a vibrant shade. Each card corner shares the same color-coding to re-enforce learning as well as make number groups easier to sort and find in the box. It's amazing how the simple addition of color can make learning more interesting, appealing and fun!
Secure, sortable and boxed to keep learning tidy
Keeping flash cards organized is essential. And as learners shuffle, stack and separate cards, things can get very messy, very quickly. We have color-coded corners for easy sorting. Space for big and little fingers to make getting cards simple. And unlike cheaper alternatives and printed card, UpSparks Multiplication Flash Cards have a permanent home. Our cards are delivered in a heavy-duty cardboard box that is made to fit perfectly. A box made to keep cards from getting lost. A box made to keep cards from getting damaged. And most importantly, a box made to keep UpSparks cards fun and inviting every time it is opened.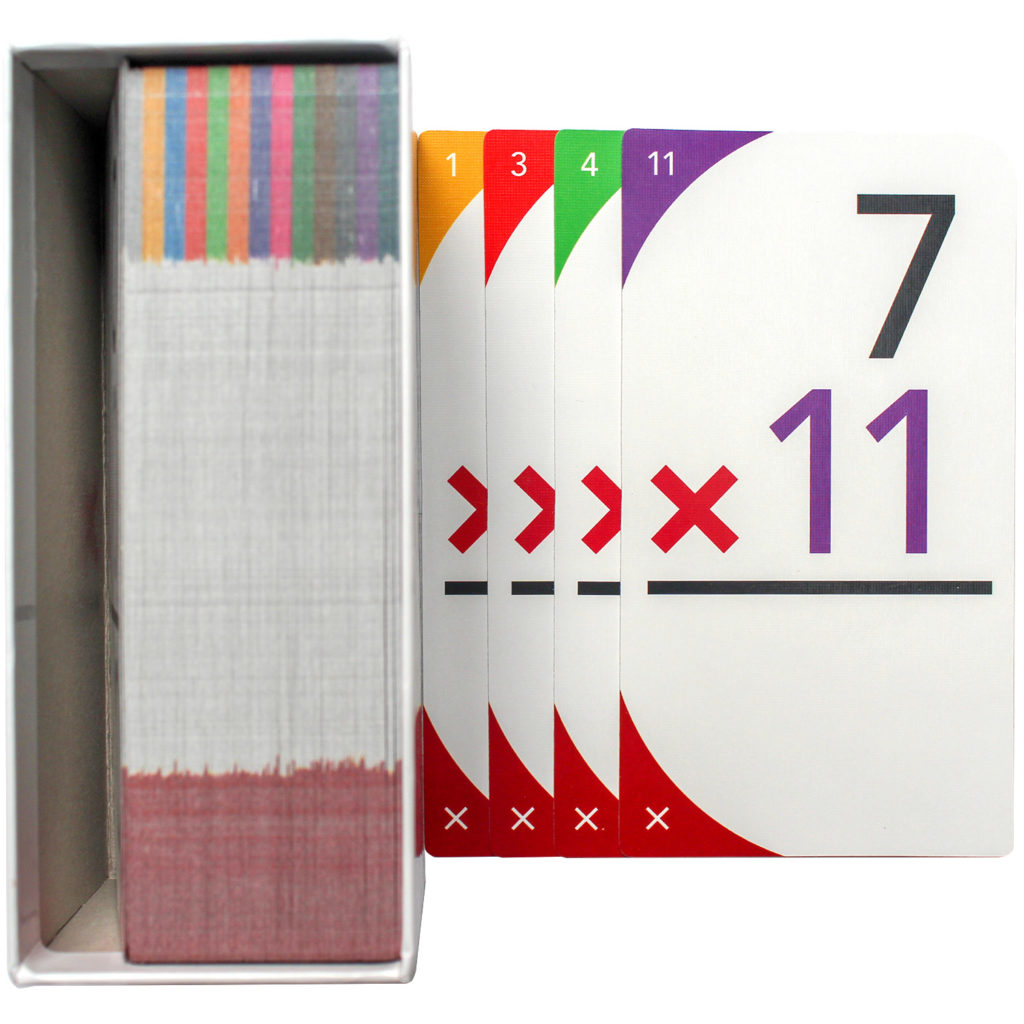 Free digital and printable resources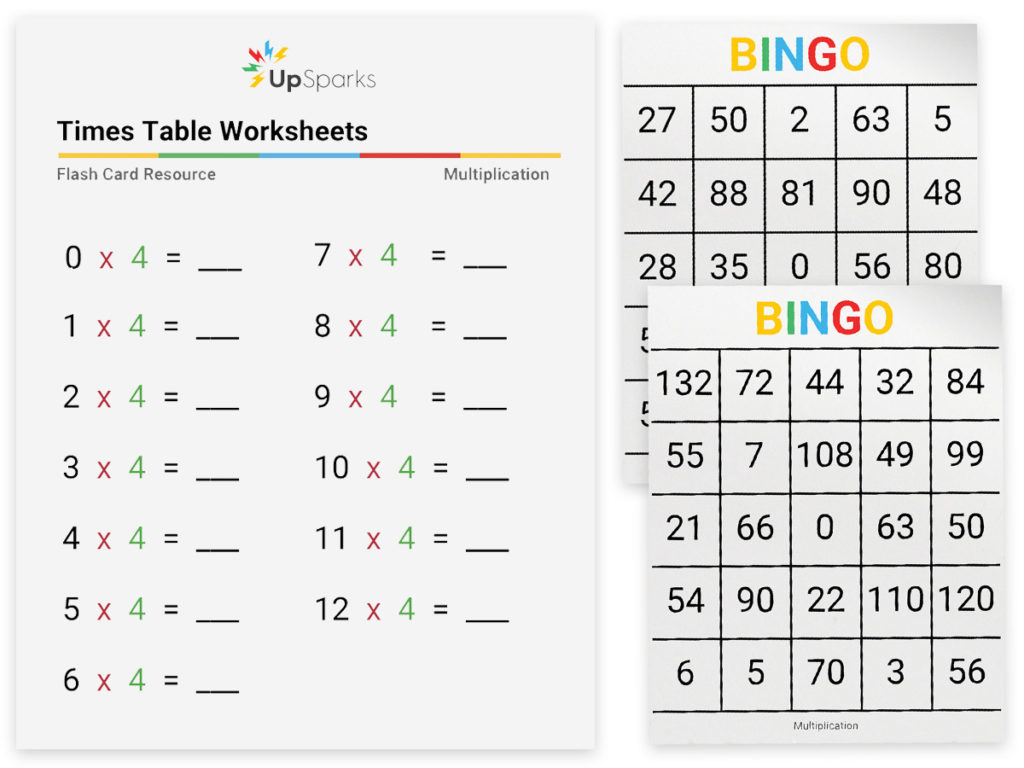 With every UpSparks box you get free access to our growing library of digital and printable resources. Including:
Times Table Question and Answer Sheets
Worksheet Question Generator Tool
Brainy Bingo Cards and Game
Wall of Mastery Collaborative Game
Free Printable Version of Flash Cards
And more!
UpSparks AR App
Watch as your cards fly out of the box and flip around the room! Exploding and popping in our brand new augmented reality learning game. The app is the perfect blended companion to add yet another fun pathway to learning.
UpSparks AR is a unique and fun way to enhance the way learners understand and grasp multiplication. Visualize the multiplication process with times table flash cards 0 through 12 (169 virtual cards) and see just how much fun math and multiplication can be.
Simply point your device at your UpSparks Multiplication Flash Cards box. And watch as your real-life cards transform into the world of augmented reality.

Purchase Options
Education Discounts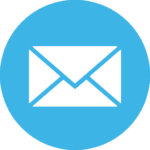 Talk to us at sales@upsparks.com
Any questions? Get in touch at contact@upsparks.com.